Our SVS subwoofer review included 3 of their models which have all been integrated with advanced features that enhance sound quality. 
If you were interested in these SVS subwoofers and wanted to learn more details about some of their most popular models, you're in the right place. 
The research has been taken care of. You can take a look below to discover more about the top features, pros, and cons of these subwoofers. By the end, you'll be left feeling a lot more confident about the kind of SVS subwoofer that you'd consider using in your home. 
We were impressed to find that this brand has included highly technological features that not only enhance the listening experience, but also make it more convenient. They have a wide range of options available, such as single, double, and dual subwoofers. 
Furthermore, white and black colors are super stylish to make sure that they fit in with your modern home.
Let's have a quick look at the SVS subwoofers SB series.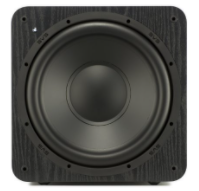 Color and Size Options for SVS SB-1000 Subwoofer
Black ash 
Black ash dual 
Piano gloss
Piano gloss dual 
White 
12" 
We liked how this SVS SB-1000 subwoofer comes with a high excursion driver that's 12" in size. This is fantastic for providing you with those incredibly deep bass sounds that shake the room. However, it doesn't just focus on making the sounds loud, it also lets you listen to them with clarity. 
When you're using the sub at a normal volume level, it's able to produce 300 watts of energy. You're also able to turn the subwoofer up to a super high level where the subwoofer can go all the way up to 720 watts. 
So, you have plenty of power for listening to music in different ways. A high-grade SVS Sledge STA-3000 DSP amplifier has been fitted to the subwoofer too. This is one of the main features that lets you listen to music that sounds so accurate. 
The weight of the sub is only 27 lbs, and with the 12" size, you can be sure to have an easier time setting this one up. In addition to this, an advanced digital signal processing feature has been implemented.
This works effectively to let you install the subwoofer with your other speakers. When you're watching movies or listening to music, it lets you have a more immersive and accurate experience. 
In addition to this, the cabinet has been implemented with a sealed design. This is excellent for keeping the sound tight. As a result, you're able to keep the distortion to a minimum.  
There is a range of low frequency sounds available as well. This enables you to hear the lowest sounds while playing the subwoofer at higher levels. It's one of the main features that let you hear different sounds that regular speakers can't produce as well. 
People have been loving the design of the subwoofer as well. It's available in black ash, black piano gloss, and white colors. So, you can be sure to pick the color and finish that you think would work best in your room. 
All of the finishes used with these subs are of a high standard. The cloth grilles that have been included also look great. This is awesome for enabling you to fit the subwoofer into any modern setting. 
Pros and Cons of SVS SB-1000 Subwoofer
Pros
Easy integration
Great low-frequency response range
Accurate bass sounds
Cons
Some find it doesn't work so well in larger rooms
** Also check out our Review on best underseat subwoofer.
---

Options available for SVS SB-2000 Subwoofer
Black ash 
Black ash pair
Piano gloss black
Piano gloss black pair 
12" 
The SVS SB-2000 Subwoofer has been fitted with a high-quality amplification system. They've included an excellent sonic engine known as the Sledge STA-500D. It provides the amp with a lot of technological features that it's able to use to create amazing sounds.
When you're running the subwoofer at more regular levels over a longer period of time, it's able to produce up to 500 watts of power. However, if you were to turn it up all the way, the subwoofer is able to provide you with a total of 1,100 watts. 
This is tons of energy to properly power the sub and let you listen to the deeper bass sounds at extremely high levels. There's a standby mode available which is great for helping you to save on energy. It operates at below 0.5 watts. Want to look in the alternative of this about 15 inch subwoofer?
We were also impressed with how it includes a digital signal processing feature that's super accurate and works well at all of the drive levels. 
People have been pleased to find that this subwoofer can be easily setup as well. This is a result of the wide range of inputs that are available on the back of the sub. As a result, you can be sure to connect it to the sound system that you have. 
Regardless of whether it's a home theater or stereo system, this sub will be able to connect to it.
Since it's compact in size at 12", you're able to install it in your home with ease. Not to mention, it weighs just 35 lbs. Therefore, the whole integration process is made even easier. 
You're able to integrate this subwoofer into your home and feel confident in knowing that it looks great. This is a result of the black colors that have been used to design it. 
This provides it with a super sleek and stylish visual appeal that looks awesome in modern settings. A metal grille has been used which provides the subwoofer with an even more contemporary design. 
Pros and Cons of SVS SB-2000 Subwoofer
Pros
Sleek design
High-quality amp 
Power-saving standby mode available 
Cons
Only works best in rooms that are 400 sq. ft. or smaller
** Check Our review on best shallow mount subwoofer.
---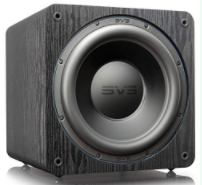 Color and Size of SVS SB-3000 Subwoofer
SVS SB-3000 subwoofer features a fantastic high excursion driver that's 12" in size. It provides you with deep bass sounds that sound remarkably accurate. The precision that's available with this driver is impressive.
It's able to stop and start with a lot of accuracies. In addition to this, they've included a cone that has been made with high-quality aluminum materials. These materials provide the cone with a lot of rigidity.
Therefore, you're able to play music at super-high volumes and not have to worry about the cone vibrating. A cone that's strong, like the one in this subwoofer, is able to remain completely stable to avoid any distortion.
We were also impressed with how the cone has a vented system. This is fantastic for allowing more air to flow throughout the interior of the sub. As a result, it's able to use this air to produce louder sounds that can travel better across the room.
The Sledge SAT-800D2 amplifier that has been implemented is fantastic for providing loud sounds that are controlled and accurate.
Moreover, a continuous wattage rate that's available is 800! This is the amount of power that the subwoofer uses when you're playing it for longer periods of time at more regular volumes.
Although, when you turn it up to its maximum performance and volume, you're provided with a whopping total of 2,500 watts of power. Therefore, you have all the power you need to listen to music at extraordinary loud volumes that fill large rooms.
People have been loving how there's an SVS app available for smartphones. You're able to download this app on your phone and connect it to the subwoofer. As a result, you have complete control over the volumes and a wide variety of settings that are available.
This is great for changing the sound settings of the sub to fit in well with the rest of the sounds that your speakers make. Having these adjustability features so easily accessible lets you have the best listening experience possible.
Pros and Cons of SVS SB-3000 Subwoofer
Pros
App for controlling the settings 
Up to 2,500W of energy available 
Accurate sounds 
Cons
Some would prefer the bass sounds to be even deeper
** Are you looking for subs under $1000?
FAQ of SVS Subwoofer
Is it better to install multiple subwoofers?
This will depend on the type of space that you're looking to set the subwoofers up in. If you're in a room that's smaller, it's unlikely that you're only going to need one subwoofer. Some people may decide to use two subwoofers at max if they want to achieve wall-shaking bass. 

When it comes to the rooms that are larger, installing multiple subwoofers could be a great idea. This is especially the case if they're smaller, at 10 or 12". Most rooms will suit two separate subs being used as you can set them up in different areas of the room.

This provides you with the greatest chance of hearing the various sounds that surround you and make the listening experience that much more immersive. 

SVS offer single and dual subs. The single subs can be used on their own for smaller rooms, or doubled up for larger rooms. With the dual subs, you could use them for medium sized rooms.
Where's the best place for a subwoofer?
If you have a front firing subwoofer, we recommend installing it directly in front of where you'll be sitting. This is because front firing subs allow the sound to travel directly towards you. 

When it comes to the down firing ports, the sound is able to travel around the room a little better. In this case, you'd want to set it up in a corner. It's great for keeping it out of the way while ensuring that it's still effective.
Should you use a ported or sealed sub?
We found that SVS have both ported and sealed subwoofers. The ported ones keep the sound a lot tighter and clean. 

While the sound is tighter, these subwoofers aren't able to produce super high sounds. Therefore, they're best for people with smaller spaces. 

On the other hand, the ported subwoofers allow more air to pass through. The sub can use this air to carry more sound across the room that sounds louder. These ported subs are great if you're in larger spaces with more room to fill.
Conclusion
So, that concludes our SVS subwoofer review. You can use the details provided in this review to help you make the best decision possible. 
There are many different advanced features available with these subwoofers and it can be tough trying to find out about which one's right for you. You'll now be able to know the main details of these subs to help you feel more confident than you did before.
Make sure that you read through the main features of each sub to ensure that you've caught all the main features. We hope that we've provided you with the details you need to pick out the SVS subwoofer that's best for your needs!
A warm welcome to all, I am Alex Thomsan, an expert in the field of product reviews. I am here to take you through the best subwoofers for your vehicle & home. I have been working in this field for quite a long time now and will surely help you with the selection process.
I was hoping you could go through my findings and research to have a closer look at the products that are worth buying. I hope my review will ease the process for you in a useful way.