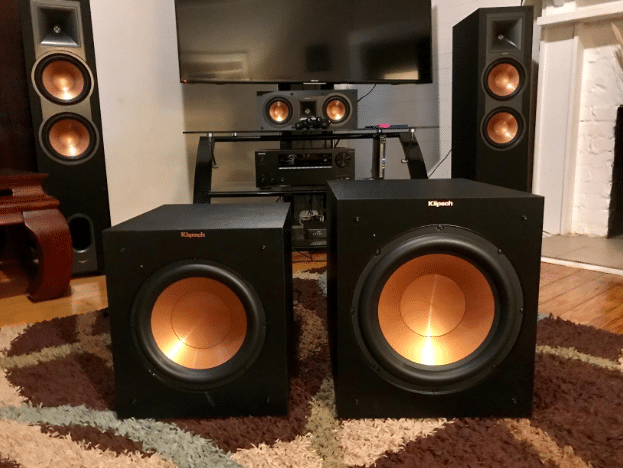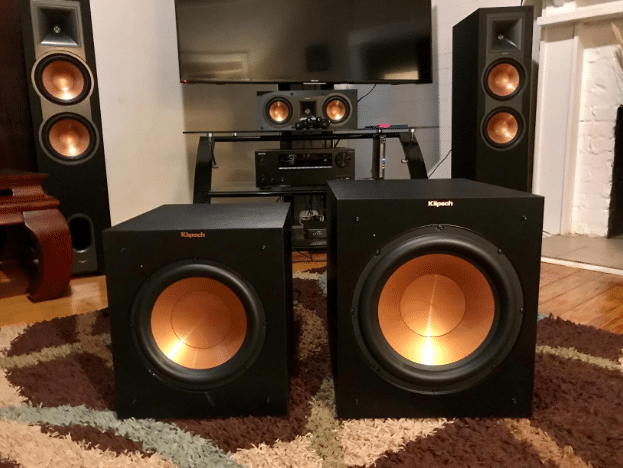 In our post of the Klipsch R-12SW review, we've included a detailed guide below to help you understand the features that it has to offer.
It's one of the most popular subwoofers that Klipsch offers, and for good reason. People like how it's available at a price that's affordable while still being able to listen to high-quality sounds. 
By the end of our review, you'll be feeling a lot more confident about whether or not this is the right subwoofer for your needs. 
So, let's get right into the main features, benefits, drawbacks, and more.
| Image | Product | Feature | Price |
| --- | --- | --- | --- |
| Top Pick | | Powerful 12″ copper-spun front-firing woofer | Check On Amazon |
Here's a Rundown of What We'll Provide in this Klipsch R-12SW Review
Key features and benefits 
The main features that users have been loving 
Some of the downsides that people have noticed
A video unboxing and bass test 
Quick history about the company 
Reviews from real customers 
Features and Benefits of the Klipsch R-12SW
400 watts of power available 
Line/LFE inputs to be used with new and old receivers 
Front-firing design 
Completely digital built-in amplifier 
Phase and low pass crossover controls included 
Rigid woofer for minimal distortion 
Special Features of the Klipsch R-12SW

In this section, we're going to take you through some of the main key features that the Klipsch R-12SW subwoofer has to offer. 
Sound Quality
The sound quality that's available with this subwoofer is excellent. This is largely due to the high-quality amplifier that has been implemented. 
It has been made with an all-digital design which provides the subwoofer with a lot of power. We liked how it works effectively to produce remarkably accurate bass sounds. 
You also don't need to worry about finding an external power source as the amp is already built-in. 
Design
This subwoofer is available in either 10 or 12" sizes. Therefore, it's a compact model that also looks great. 
They've implemented a black finish and a spun copper cerametallic woofer. This combination of the black exterior and cerametallic woofer provides the subwoofer with a fantastic visual appeal. 
The black finish that has been used over the top of the sub enables it to look super sleek. Therefore, you can be sure to use it in modern settings and know that it will look great. 
We also liked how a cloth grille has been included. You're provided with the ability to remove this whenever you like. 
People have also been liking how the cabinet of the subwoofer doesn't stick out and make it look out of place. 
Controls & Integration
Since the subwoofer is available in the smaller sizes of 10 or 12", you're able to have a much easier time when it comes to installing it. 
The compact design means that you can slot it into spaces that are smaller. Therefore, if you have a room that's smaller, this subwoofer would be easy to install. 
Furthermore, there are plenty of inputs available on the back of the subwoofer. This provides you with the opportunity to hook it up to your pre-existing sound system without any hassle. We liked how its compatible with most subwoofers, regardless of whether they're old or new. 
Once you have the subwoofer setup, you can take advantage of the controls that are available. One of the main controls that users have been liking is the low pass crossover and phase controls. 
These allow you to alter the low frequency sounds to make sure that they work in combination with the rest of your speakers. This results in a sound system that works together and boosts the quality of the audio. 
Drawbacks of the Klipsch R-12SW
Are you wondering what some of the downsides concerning this subwoofer have to offer? If so, take a quick look below. 
Some users have mentioned that this subwoofer works best with home theater systems compared to music systems. So, if you were looking for something that's versatile with movies and music, this sub may be a little disappointing on the music side. 
Another one of the downsides that customers have discussed involves a green light that's behind the cloth grille. When you turn the subwoofer on, this green light activates to let you know it's up and running.
During the day, this isn't an issue. However, when it comes to nighttime, people have noticed that the green light is a lot more prevalent. This can be an annoying issue when you're trying to watch movies at night. 
It can also cause a bit of a hassle with trying to cover the light up and stop it from shining so brightly. 
About the Klipsch Company

Klipsch has been established since 1946 and is an American based company. Over the years, they've gained an excellent reputation for creating speakers, enclosures, and drivers that are of a high standard.
Their audio products vary from home uses, with home entertainment systems, stereos, and computers. You can also find their speaker in public places, such as AMC theaters, Hard Rock Cafes, and more. 
Alternative: Klipsch R-112SW Review: Features, Benefits, Drawbacks
Klipsch R-12SW Reviews
So, what are customers saying about the Klipsch R-12SW subwoofer? We've gathered some customer reviews for you to take a look at in this section.
It can give you a different perspective on the subwoofer that could be useful in helping you to decide if it's the right subwoofer for you. 
What Amazon Customers Have to Say About Klipsch R-12SW
"I found that the 10" subwoofer creates bass sound that are tighter in comparison to the 12" version. However, the 12" is able to produce louder sounds. I've decided to keep them both as they work well for slightly different reasons." 
"I've owned 15 and 18" subwoofers before, so I wasn't expecting this 10" sub to produce bass sounds that were as loud. I was blown away by how this more compact sub can create such loud volumes!" 
"When setting up this subwoofer, I noticed that it doesn't sound as great when it was integrated into a corner. It sounded way better when I moved it directly ahead of me." 
| Image | Product | Feature | Price |
| --- | --- | --- | --- |
| Top Pick | | Powerful 12″ copper-spun front-firing woofer | Check On Amazon |
Other related reviews
– Best Subwoofer under $1000
– Best Subwoofer under $500
– Best SVS subwoofer review
Bottom Line
That brings our Klipsch R-12SW review to an end. We hope that we've laid out all of the information that you need to know about this subwoofer to feel better about deciding if it's the right one for you.
Be sure to consider the main features, pros, cons, and what users have to say about the sub before you make your final choice!
A warm welcome to all, I am Alex Thomsan, an expert in the field of product reviews. I am here to take you through the best subwoofers for your vehicle & home. I have been working in this field for quite a long time now and will surely help you with the selection process.
I was hoping you could go through my findings and research to have a closer look at the products that are worth buying. I hope my review will ease the process for you in a useful way.