The Rockville RW10CA is a perfect option for you since it is an all in one compact sub that comes with an in-unit amplification and has a peak power rating of up to 800 watts. It will help you deliver a perfect bass for pickup trucks and small cars.
Subwoofers refer to loudspeakers that are dedicated and have the main responsibility of jacking up the sound system bass output. In case your car speakers sound thin, one good way you can fix them is by throwing in a Rockville RW10CA subwoofer. It will help enhance low-end frequencies and ensure the sound is well rounded and deeper.
We will be covering the following in our Rockville RW10CA review
Specifications
Features
Why You Should Buy Rockville RW10CA
Rockville RW10CA Shortcomings
Real Customers Reviews
Conclusion
Specifications of Rockville RW10CA
Sub Size: 10 inches x 1
Weight: 14 Pounds
Channel: Mono
Amplifier Class: A/B
Impedance: 2 Ohms
Sensitivity: 90 dB
RMS Power Output: 250 Watts
Peak Power Output: 800 Watts
Enclosure Type: Sealed
Frequency Response: 20 Hz to 150 Hz
Phase Switch: 0-180 Degrees
Low Pass Filter: 50 Hz to 150 Hz
Remote Control: Bass Level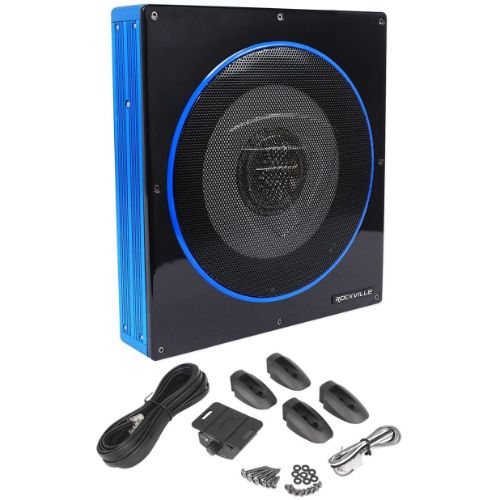 Features of Rockville RW10CA
Installation Process
Rockville did have in mind the easy installation procedure when designing the RW10CA. The manufacturer did equip this subwoofer with a variety of high level inputs to ensure one did not have to remote wire the subwoofer from its receiver to turn it on or off.
Its sub's circuitry has been designed to sense whenever the audio signal is present and will always turn the sub on automatically immediately the signal is detected. Whenever the user shuts off their music signal, the amplifier will also switch itself off. The subwoofer's high level inputs makes installation of the sub easy and fast explaining why most subwoofer lovers find it is a beginner friendly model.
All you will have to do in order to install the RW10CA is wire the inputs in one of your system speakers.  The manufacturer did place both the inputs and outputs in one side which makes for an organized look and for the installation process to be simple.  
Design
In case you are in need a very powerful subwoofer which carries the entire system, then you need to expect one of a bulky design that comes  complete with an enclosure which makes  it a bit difficult to install. However, the RW10CA design is quite space saving. This subwoofer is of a slim design which makes it able to fit under the seat of the driver. These will not only save lots of space in the car but it means that it can easily be installed within a few minutes without need of any extra hardware.  This subwoofer measures a mere 2.5 inches in thickness hence should easily fit under most of the car seats.
Sound Quality
The Rockville RW10CA is known to dominate on the bass department. It comprises of a massive 10 inch woofer together with a built in amplifier with a RMS of 200 watts and peak power of 800 watts. This Rockville RW10CA is the only CEA-2006 compliant under seat slim subwoofer currently available in the market. It means the gadgets power ratings have been ratified and approved by a 3rd party.  With this, you can be 100% sure that it will put the power amount it says it can put out.
Its amplifier uses a PWM MOSFET power supply which comes fully equipped with remote, ground and power at 12 volts. It also comes with a frequency response of 20 Hz to  150 Hz  while its sensitivity is 90dB.
The RW10CA will never disappoint you as it still manages to lift the bass signature very well. In case you are in need of a high impact bass that can send your heart racing, then it will be appropriate you go for something else. This RW10CA is a medium impact subwoofer that has an average slam. Its main task is to help in supplementing the audio system of the car to enable you get the best sound from the already available set up.
Power
As you already know, the RW10CA is a 10 inch compact subwoofer that produces high bass making pleasant music. It makes use of the high power input making it easy and fast to install. Currently, it is among the smallest subwoofer in the market which is CEA compliant. It will give an RMS power of 200 watts and a peak power of 8000 watts.
This subwoofer is known to come with great tools which make the sound to your liking. It comprises of a level control for volume that can control the subwoofer volume remotely. It also comes with a subsonic filter that is capable of filtering out low frequencies which you are not in a position to hear. It also comes with a smart circuit that makes it capable of sensing audio signal present and automatically turns on the station on your radio.
Why You Should Buy Rockville RW10CA
RW10CA is a compact model. This makes it easily fit below the seat producing the effect of a supreme bass from this 10 inch sub. This will also help in assuring ease to handling the sound waves depending on amplification it will get from central part.
It is the only under seat subwoofer which has so far been accredited by the CEA-2006 for being power compliant. It explains why most subwoofer users refer to it as a unique product.
The RW10CAhas MOSFET transistorswhich makes power supply optimum and will be of great benefit when it comes to low energy consumption.TheRW10CA is also ideal for low level input as it assures low energy consumption for components and functions to work well. It is quite a unique property since most of the same class subwoofers never work that efficiently as the low level inputs.
The presence of bass boost in RW10CA do level up to 18 db and  45 Hz frequency is a big bonus keeping in mind that it is a mere 10 inch subwoofer.  The availability of the remote control level makes it possible for the user to control speaker effects according to the users wish.
Rockville RW10CA Shortcomings
This subwoofer must be installed in an area that is well ventilated to help in preventing overheating.
The speaker size is quite small as there are people who prefer a slightly bigger speaker.
Its bass is not that deeper when compared to other speakers bass in the market.
Customers Comments on RW10CA
Most of the Amazon buyers have accredited 4.4 out of 5 from the experience they did have with this RW10CA subwoofer. Up to 168 customers did post their experiences with the product with up to 88% of the RW10CA users expressing their satisfaction. Here are some of the customers' reviews.
Miguel who did give RW10CA 5 out of 5 rating and has this subwoofer installed at the rear of his hatchback car says, " Immediately I turn on the car stereo to 10x, the entire sound level always stands up. It is a perfect subwoofer for me. If you can go for it do not have a second thought!"
"At first, I was a bit skeptical before I made purchase but I later turned to be very happy after enjoying great experience with this subwoofer," Humam revealed.
"After mounting the RW10CA to my jeeps' tailgate, this subwoofer did produce a great impact. Its pure bass offers it less distortion. "
Conclusion
The Rockville RW10CA is a top product that is very popular amongst most subwoofer lovers. Most people are said to love it due to its small size and for being able to increase the melody in the music by producing maximum output. For any person who is in need of a subwoofer to seek low input barriers, there is never a better option than going for the Rockville RW10CA subwoofer. It is quite easy to install the Rockville RW10CA than most of the under seat subwoofer in the market.
We hope that the Rockville RW10CA review has been of great help to you and that you are now in a position of making an informed decision when in the market for the best under seat subwoofer.
A warm welcome to all, I am Alex Thomsan, an expert in the field of product reviews. I am here to take you through the best subwoofers for your vehicle & home. I have been working in this field for quite a long time now and will surely help you with the selection process.
I was hoping you could go through my findings and research to have a closer look at the products that are worth buying. I hope my review will ease the process for you in a useful way.