Almost everyone likes listening to a certain type of music. There are a number of ways we can use to enhance user experience. One way is investing in gadgets that can amplify and improve sound quality. This explains why most music lovers will always have a subwoofer with them. One popular subwoofer is the Polk Audio PSW10.
In this Polk Audio PSW10 review, we will be looking at the various features to enable you to understand its performance and why it is a perfect subwoofer for your needs.
| Image | Product | Feature | Price |
| --- | --- | --- | --- |
| Top Pick | | Powered subwoofer for extra bass & punch | Check On Amazon |
Here is what we will be covering in this Polk Audio PSW10 review
Specifications
Main Features
Pros and Cons
History of the Company
Real Customers Reviews
Conclusion
Specifications of Polk Audio PSW10
Measurements: 36.51 cm by 35.56 cm
Weight: 26 lbs
Power Source: AC Power Adapter
Speaker System Type: Powered subwoofer
Amplification Type: Active
Frequency Response: 35 Hz- 200 Hz
Speaker Driver Diameter: 10 inches
Nominal Output Power: 50 Watt
Maximum Output Power: 100 Watt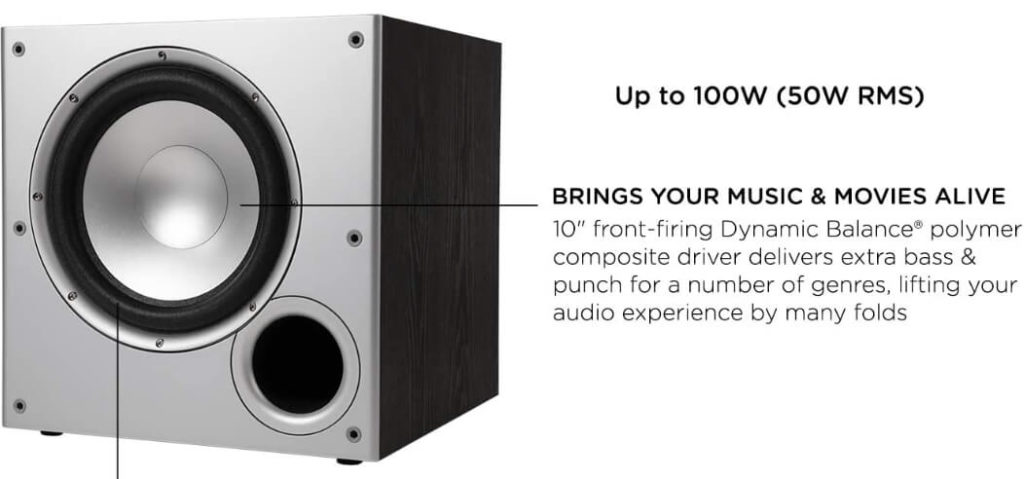 Polk Audio PSW10 Features
Packaging and Accessories
This PSW10 comes well packed without any deformation or scratches on the sub. When removed out of the box, it does look bigger and you will for sure be surprised by its size.
Inside the box, it comes with a removable front grill that can always be removed or used together with the sub according to what the user prefers. Most people do love using the subwoofer together with the front grill since it looks much better and complements the entire setup.
Design and Appearance
The Polk Audio PSW10 is of a minimalistic and strict solid design with a cubic case. It is a perfect subwoofer for a 10 inch driver and the case suits it well. Its body is made using black oak and has a silver front. Its manufacturer does offer a lacquered cherry modification.
The body of this subwoofer has been designed in a way that the MDF barriers complex system together with its thick walls helps in preventing standing waves formation and any unwanted resonances. The sound controls and frequency are located behind. It also has line out and terminals that are used in connecting the external speakers with polarity.
This PSW10 comes with polymer composite diffuser together with a bass reflex which is situated at the MDF board thick front wall. The bass reflex and the driver all covered using a black fabric transparent mesh. You can easily remove it to access the equipment.
Sound Quality
This Polk Audio PSW10 is well designed and engineered to offer great quality of sound which will ensure excellent performance. All the materials which have been used such as the speaker geometry, drivers and its enclosure design do contribute to the overall effect of the sound produced. The subwoofer's unique configuration will help in creating a clearer and clean sound doing away with distortion while in low frequency sounds. The PSW10 internal bracing will help reduce the internal standing waves. Its dynamic balance driver materials are also resonance free.
Its superior system blending will offer low frequency sound which is musical and deep with more thrilling sound effects. It uses a Klippel Distortion which is a laser based measurement technology that is meant to help in reducing sound distortion ensuring the sound is precise and deep. This explains why you can always play extremely high levels of volume when using Polk Audio PSW10 without the quality of sound being affected.
Other Notable Features
A good number of subwoofers in the market are known to stop working due to high volume levels. However, the Polk Audio PSW10 comes with superior compression circuitry that helps in reducing sound distortion during high levels of volume. The circuitry will help in preventing and reducing any type of damage which can occur from high and loud levels of volume.
This subwoofer also comes with a smart sensing circuitry feature that makes it possible for the subwoofer to turn on and off automatically. With this, you will never have to worry about having to manually turn on or off the subwoofer in case of unanticipated shutdown or power blackout. It can also turn on by itself once the power supply is stable. It's automatic on and off feature helps in protecting it from any power surges.
About Polk Audio
Founded back in 1972 by Mathew Polk, Sandy Gross and George Klopfer, Polk Audio is best known for manufacturing audio protections specifically automobile and home speakers. This company also makes a wide range of audio products like FM tuners and amplifiers. Based in San Diego, California, it was acquired by Directed Electronics in 2006.
Polk Audio is among the firms in the audio sphere which have been improving over the years offering their customers with better sound quality at a better price. The majority of the products from Polk Audio have been engineered to be available at affordable price. The PSW10 is among the products which is available at affordable price.
| Image | Product | Feature | Price |
| --- | --- | --- | --- |
| Top Pick | | Powered subwoofer for extra bass & punch | Check On Amazon |
Reasons Why You Should Buy PSW10
ThePSW10 comes well equipped with a great smart sensing technology that will turn off the device automatically in case of power fluctuation or outrage. Its automation feature will help in averting any form of damage that could have been caused by surge in power.  Immediately the power is stabilized or restored, it will turn on automatically.
The PSW10 stereo speakers' outputs and inputs are easily accessible. Connecting it is very easy and compatible with majority of the sound systems. Its smart sensing circuit together with the superior sensing circuitry helps in enhancing audio experience.
This Polk Audio PSW10 is very efficient at its current price. Its audio output quality is impressive. The detailed and deep bass together with the clear sound is a delight to listen to. This makes it a top subwoofer for small to moderate sized rooms.  The design of this subwoofer offers a great contribution to its overall performance.
The PSW10 comes with a long warranty period which helps in ensuring the buyers that the product will give them a good value for their money.
PSW10 Shortcomings
Despite PSW10 being very easy to connect to most of the systems, it still lacks a direct LFE input connection that will enable it bypass the crossover of the subwoofer. The use of PSW10 might not be maximized since it is more compatible with other types of Polk Audio speakers.
This subwoofer will still struggle in providing a powerful and adequate bass for large rooms despite it having an impressive bass output.
Customer Reviews
"I did go through the smaller 8 inch three subwoofer before I came across the great reviews on PSW10 and decided to give it a try. For sure, it was as good as I had read. I can say 200% better than all the previous subwoofers I previously interacted with", says Chester.
"I did learn about the PSW10 when I visited my friends' home. The sound quality was top notch and I immediately fell in love with it. I did purchase it after 2 months and never regret making that decision", Monica.
"It is a great and top quality product from the industry leader available at an affordable price", GoSoundShack.
It is not a surprise to see most of the PSW10 customers giving it positive reviews. Its availability globally together with an extended warranty and jaw-dropping specs has made it earn some space in almost every music lovers' living room.
Conclusion
With Polk Audio being in the front seat in the audio world offering its clients better sound at a relatively affordable price, the PSW10 is no exception. This subwoofer comes with lots of flexibility and capacity that ensure it is in a position of satisfying every customer. Its bass is on point while the distortion is not more than 1% especially when playing audio on higher volumes. In case you are in need of a premium subwoofer and in need of one that is available at an affordable price, then this PSW10 should be your best option.
We hope the PSW10 Review has been of great help to you and that you are now in a position of making an informed decisions when shopping for a top subwoofer in the market.
A warm welcome to all, I am Alex Thomsan, an expert in the field of product reviews. I am here to take you through the best subwoofers for your vehicle & home. I have been working in this field for quite a long time now and will surely help you with the selection process.
I was hoping you could go through my findings and research to have a closer look at the products that are worth buying. I hope my review will ease the process for you in a useful way.