One of the biggest factors that you'll want to consider when it comes to your subwoofer is the enclosure that you put it in.
The enclosure can have a huge impact on the way that your subwoofer sounds. There are plenty of subwoofer boxes available for the different sizes.
There are some main types of enclosures that you'll want to consider. In this post, we're going to take you through what these enclosures are and the differences between them so that you can pick the one that's best for your subwoofer.
Sealed Enclosures
If you're looking to listen to bass sounds that are accurate and very tight, a sealed subwoofer box for deep bass is what you'll be after.
These enclosures have been made with the air chamber at the back sealed off. As a result, there's no possibility for air to move in and around the interior of the enclosure. This is one of the elements that leads to the subwoofer being able to produce such accurate sounds.
The air that's inside the enclosure is limited and enables the shock of deep bass sounds to be absorbed. It's a fantastic design feature that minimized distortion and boosts the sound quality.
Sealed subwoofer enclosures are also usually more compact compared to the ported ones that are available.
Therefore, if you have a smaller space that you're looking to integrate the subwoofer into, a sealed enclosure may be best. This is especially the case if you were interested in setting a sub up in your vehicle where you have to place it underneath the seat.
Having said all that, there are a couple of downsides to using sealed subwoofer boxes. One of the negatives is that it isn't able to produce sounds that are extremely loud to the point where it can fill large rooms on its own.
For bigger rooms, you may want to consider installing multiple subwoofers in sealed enclosures. Although, most people will be able to listen to deep bass sounds at super high volumes without feeling the need to have more.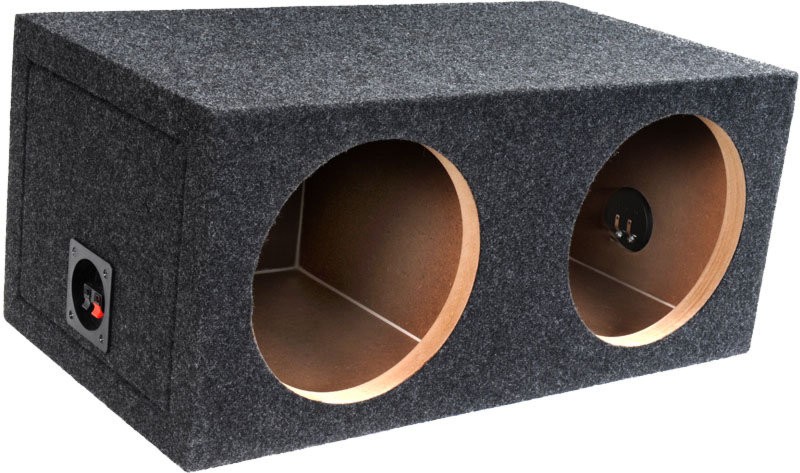 Ported
Ported subwoofer boxes are the other most popular type of enclosure. These ones are typically constructed in a similar way to the sealed ones. 
However, they're usually larger in size as they need to leave room for the port to be fitted. The port in these enclosures is made to be an opening in the enclosure that has a tube going through it. 
This tube is what allows air to circulate throughout the inside of the enclosure. Most ported subwoofer boxes have been tuned to a certain frequency. It's what allows the sound to travel from the back of the subwoofer to the area where the port is opened. 
As a result, there's more air available to push more sound waves out of the subwoofer. Therefore, these enclosures can be excellent for larger places as the sound is able to travel further and be louder. 
These enclosures allow subwoofers to produce louder bass sounds. However, while the sounds are louder, it can cause the accuracy of the sound to be diminished. Some people notice that there's more distortion. 
These sub boxes do, however, operate more efficiently compared to the ported ones. 
Bandpass Enclosures 
Bandpass subwoofer boxes are a mix of ported and sealed enclosures. These boxes have a dual system where one area is ported and the other is sealed. 
You integrate your subwoofer into the enclosure where the only way it can produce sound is by going through the port. However, these enclosures work by having the ported and sealed enclosures tuned to a certain frequency. 
As a result, the subwoofer is able to produce sound at the same frequency to give you the best of both the sealed and ported enclosures. 
These enclosures can work great, however, there are a lot of tweaks that need to be made in order to get the correct frequency. The minute details make a huge difference with these enclosures. Therefore, it may not be the best option if you're setting up a subwoofer for the first time, unless you're getting professional help. 
To set up a bandpass box, it would be best if it came with the subwoofer already mounted inside. This is because it can save you a lot of hassle trying to find the correct sized sub to fit in the box. 
Alternatively, you could also choose to get the enclosure custom made so that it's tailored to fit the subwoofer you currently have. 
Video: Subwoofer Box Volume Explained – Gross vs. Net vs. Air
Conclusion
You can utilize the information in this post to decide on which type of subwoofer box for deep bass is best for your needs. 
For beginners, we recommend that you go with either the ported or sealed enclosures. The bandpass enclosures would be best for people who have more experience with setting up more complex sound systems.
A warm welcome to all, I am Alex Thomsan, an expert in the field of product reviews. I am here to take you through the best subwoofers for your vehicle & home. I have been working in this field for quite a long time now and will surely help you with the selection process.
I was hoping you could go through my findings and research to have a closer look at the products that are worth buying. I hope my review will ease the process for you in a useful way.